Welcome to the Hotel "An der Eiche" in Kulmbach.
WELCOME
In the heart of Kulmbach in green surroundings and yet close to the center with historical sights and hiking trails, everyone will find their place.
Our hiking and cycling friendly hotel combines Franconian hospitality with the proximity to nature and has the Main cycle path, nature parks and exciting destinations right at your doorstep.
Enjoy your vacation in Kulmbach and feel at home with us. We do our best to make your stay as pleasant as possible. Our friendly service team will be happy to assist you in all matters.
In the Hotel "An der Eiche" guests become friends.
We look forward to welcoming you soon!
THIS IS US
At a glance
Coziness
Personal, Franconian, individual – you will feel at home with us.
Main River Cycleway
The "Eiche" is the ideal bed & bike hotel for your vacation in Upper Franconia. We offer secured parking possibilities for your bicycles.
E-mobility
Charging stations for e-cars are directly in front of the hotel as well as secured parking for e-bikes (charging possibilities are currently being installed).
Public transportation
Regional bus, city bus, "Variobus" or "Radlbus" – Kulmbach offers a variety of options if you want to go without your car.
Handicap friendly
Of course, we also have handicap friendly rooms.
Leisure
Kulmbach and its surroundings offer many exciting places to visit and explore.
Top rated
Our hotel is one of the best-rated hotels in Kulmbach.
Wi-Fi and TV
All our rooms have free Wi-Fi access and modern satellite TVs.
Parking facilities
Free parking is available in the immediate vicinity of the hotel.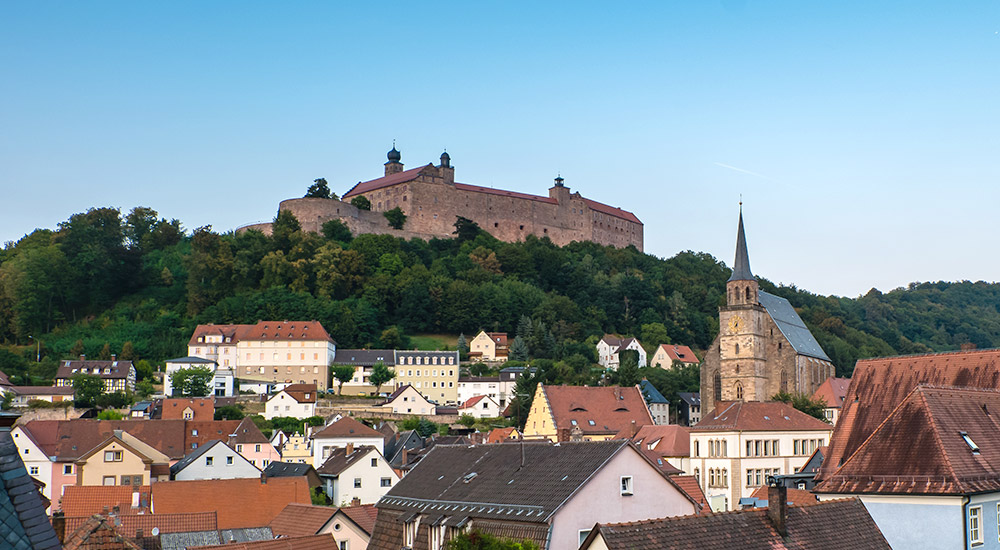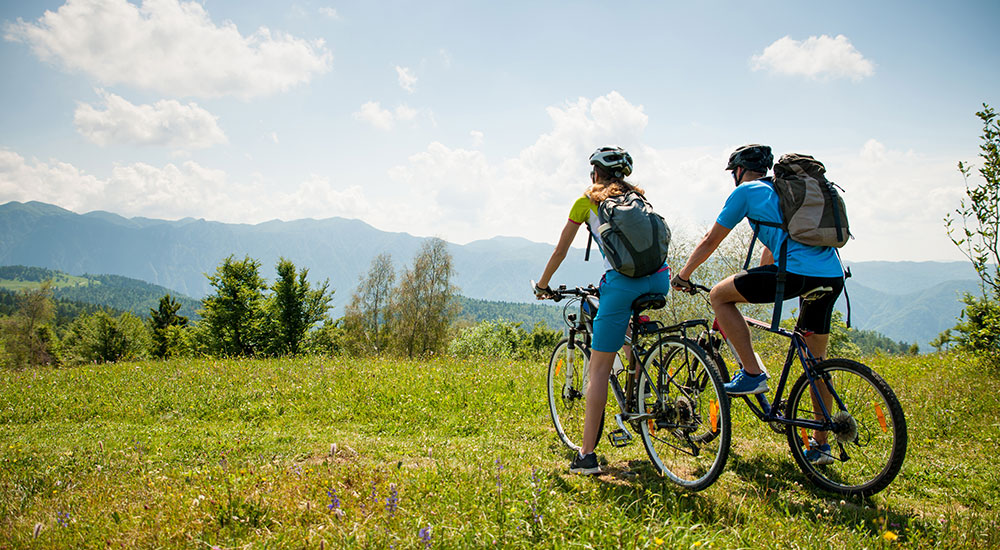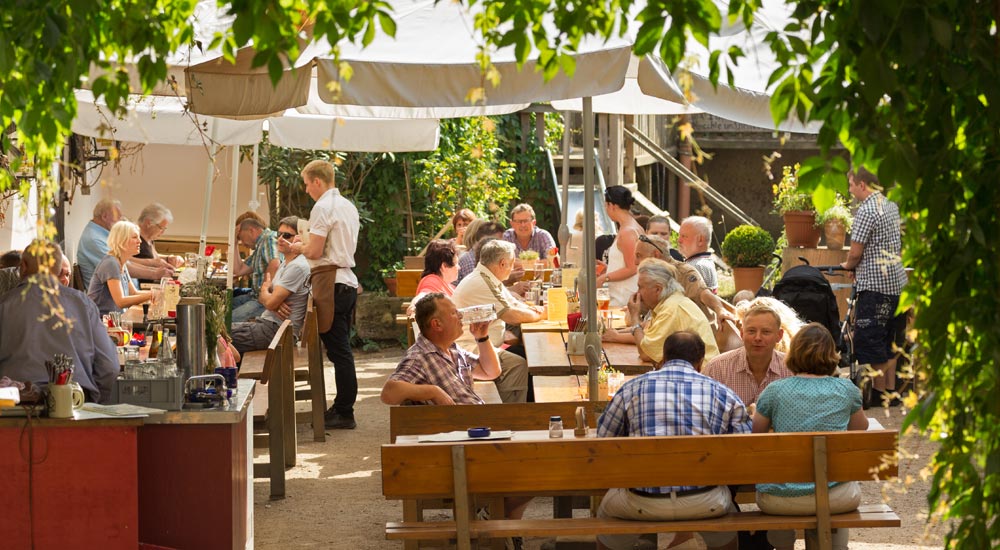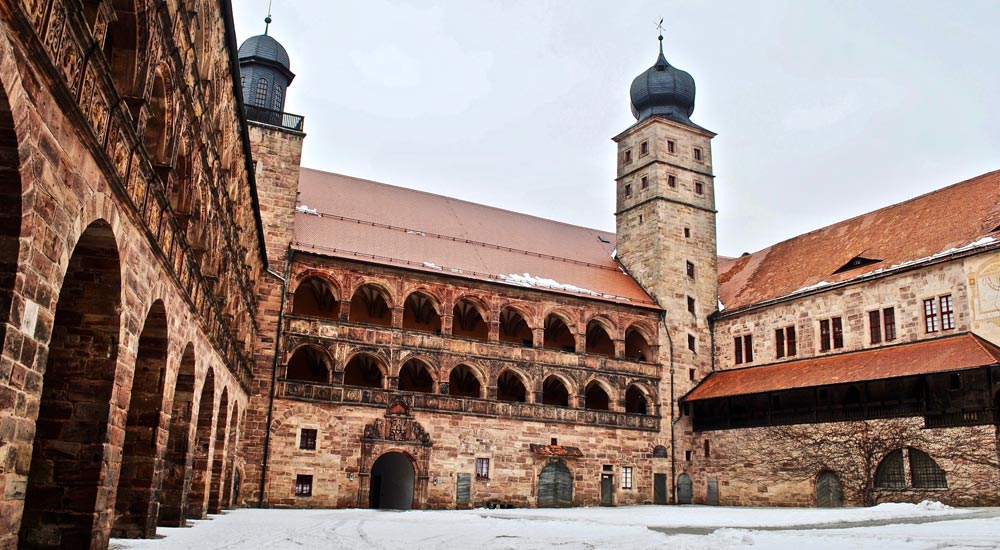 Hiking, biking, strolling...
DISCOVERY
There is much to see in and around Kulmbach. Discover the numerous sights in Kulmbach and its surroundings by bike or on foot. Numerous excursion destinations, hiking trails and wellness offers invite you to stay in Kulmbach and its surrounding areas.
No matter if you want to relax from everyday life in the thermal spas in Bad Staffelstein, Bad Steben, Weißenstadt or Obernsees, go for long hikes in Kulmbacher Land, the Fichtelgebirge or the Franconian Forest or experience the legendary view of Kulmbach's Plassenburg. The hotel "An der Eiche" in Kulmbach is the perfect starting point for a variety of activities.
In addition to information about the popular Main River Cycleway, we have summarized for you the top 10 sights and excursion destinations in Kulmbach and the surrounding area:
Exploring Kulmbach
The way to the Franconian 3-star hotel
HISTORY
In 1923 the mason Johann Schmidt from Kulmbach built the pub "Zur Eiche" in Pörbitsch. Almost 30 years later, it was converted into an inn. When Schmidt died in the early 1970s, his son took over the "Eiche" to continue it in the old tradition.
However, the guesthouse was leased until the beginning of the 2000s, as the Schmidt family moved their residence to Württemberg. During this time, the middle-class hotel was able to establish itself as a popular guesthouse in the Kulmbach region.
On their return in 2004, the Schmidt family took over the "Eiche" again and made it what it is today: not only a popular accommodation on the Main cycle path, but also a cozy 3-star hotel to feel good. Not only cyclists, but also hikers use the proximity to nature and especially to the Main cycle path to spend their vacation in Upper Franconia.
With the new building "Aacherla" (the small oak) our hotel was extended by new guest rooms. Since May 2021, the hotel "An der Eiche" is owned by the Small Hotel GmbH based in Kulmbach.